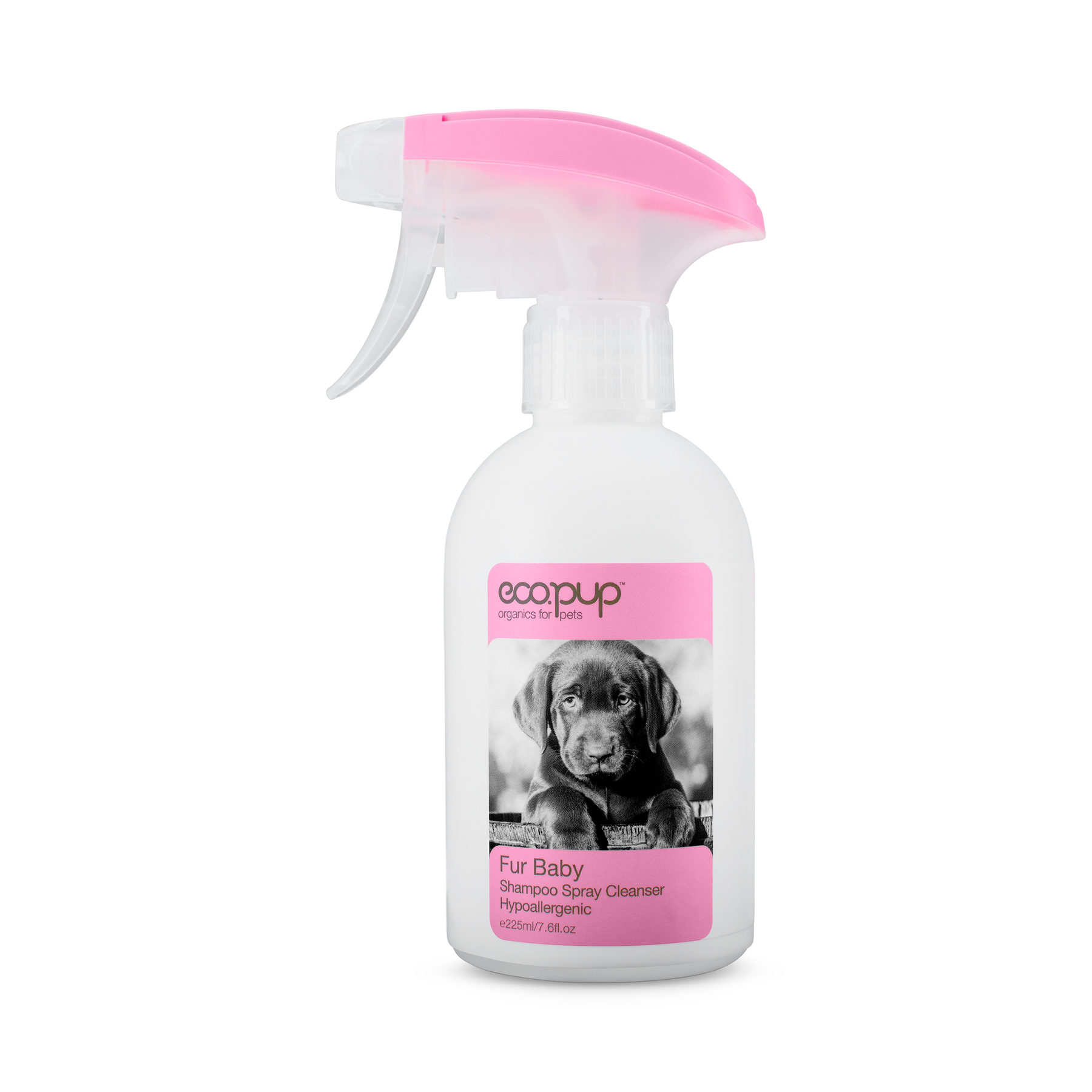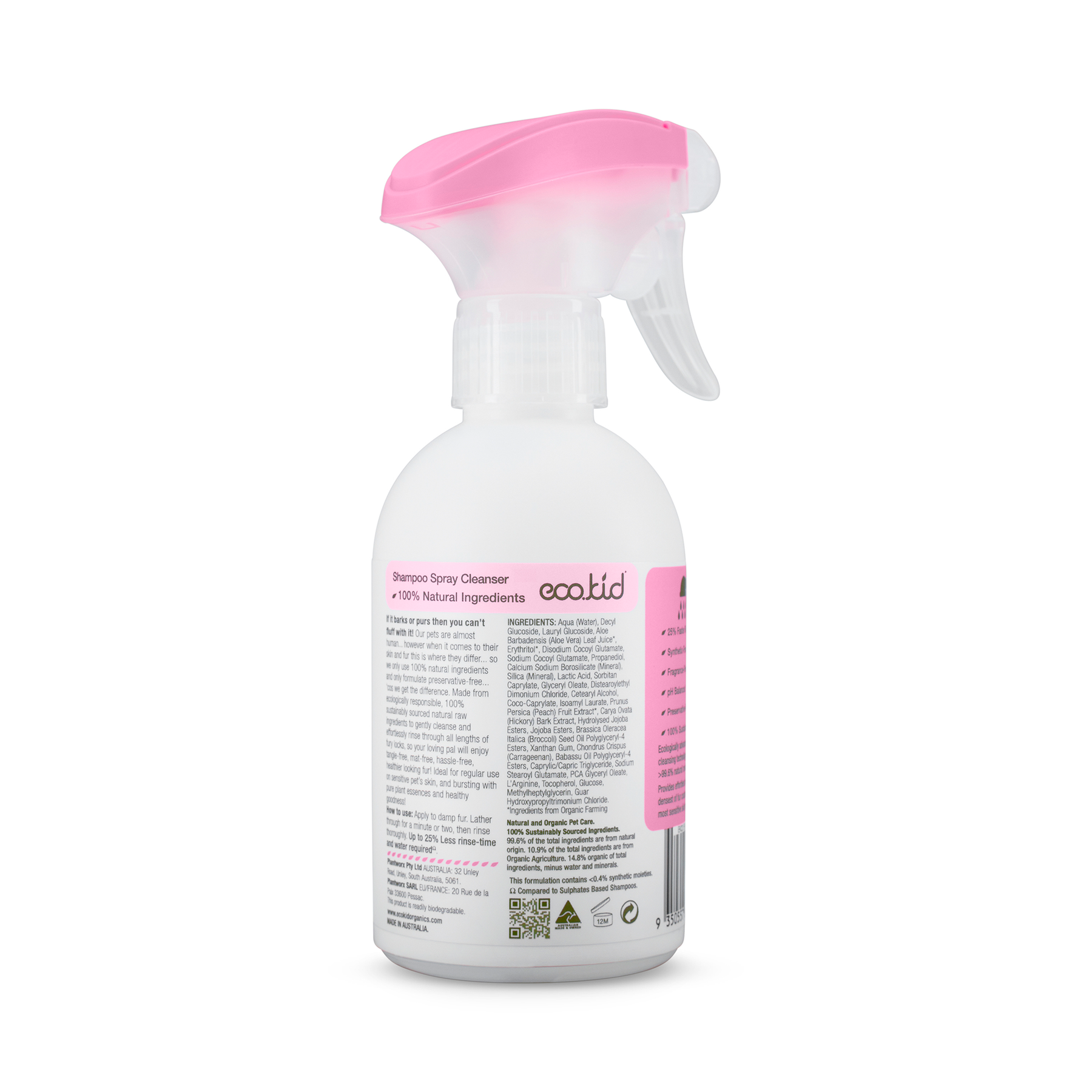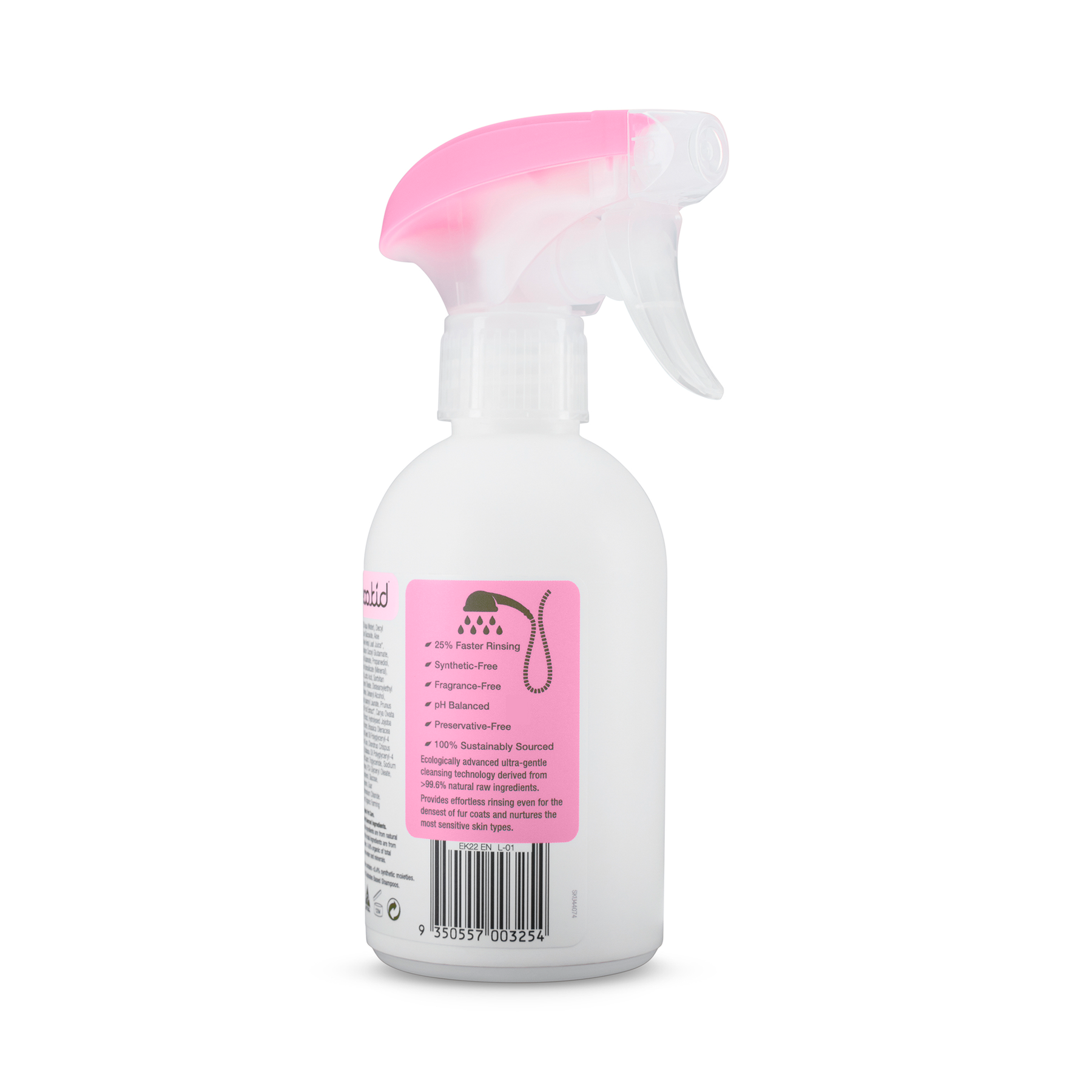 eco.pup Fur Baby Lickety-Split Hypoallergenic Spray Wash
All ingredients are food-grade & lickable.

Rinses in 25% less time and water than synthetic shampoos*.

Ecologically advanced ultra-gentle cleansing technology derived from 100% natural raw ingredients.

It provides effortless rinsing even for the densest of fur coats and nurtures the most sensitive skin types.

*Compared to SLS, SLES, ALS, Coco-Betaine, etc


---
---
Lickety-split by name & lickety-split by nature... If your fur baby ain't wait'n around for the "full-lux hose-down" spa treat, then rinsing 25%-faster makes a whole lotta difference... for the washee & the washor.
If they like to be off with a wag, shake & snort, quicker than you can shout for the towel, then we've got you covered. Now don't sweat the bit that didn't get rinsed, 'cos these lickalicious bubbles are made to eat!
Made from 100% food-grade natural raw ingredients to gently cleanse and effortlessly rinse through all lengths of fury locks, so your inpatient pal can be back on the trott lickety-split, with a fresh smelling coat glistening with pure plant essences of healthy goodness!

Aqua (Water), Decyl Glucoside, Lauryl Glucoside, Aloe Barbadensis (Aloe Vera) Leaf Juice*, Erythritol*, Disodium Cocoyl Glutamate, Sodium Cocoyl Glutamate, Propanediol, Calcium Sodium Borosilicate (Mineral), Silica (Mineral), Lactic Acid, Sorbitan Caprylate, Glyceryl Oleate, Distearoylethyl Dimonium Chloride, Cetearyl Alcohol, Coco-Caprylate, Isoamyl Laurate, Prunus Persica (Peach) Fruit Extract*, Carya Ovata (Hickory) Bark Extract, Hydrolysed Jojoba Esters, Jojoba Esters, Brassica Oleracea Italica (Broccoli) Seed Oil Polyglyceryl-4 Esters, Xanthan Gum, Chondrus Crispus (Carrageenan), Babassu Oil Polyglyceryl-4 Esters, Caprylic/Capric Triglyceride, Sodium Stearoyl Glutamate, PCA Glyceryl Oleate, L'Arginine, Tocopherol, Glucose, Methylheptylglycerin, Guar Hydroxypropyltrimonium Chloride.
*Ingredients from Organic Farming

Natural and Organic Pet Care.
100% Sustainably Sourced Ingredients. 100% of the total ingredients are from natural origin. 10.9% of the total ingredients are from Organic Agriculture. 14.8% organic of total ingredients, minus water and minerals.

This formulation contains 0% synthetic moieties.
Apply to damp fur. Lather through for a minute or two, then rinse thoroughly. Up to 25% Less rinse-time and water required Ω.

AVOID Direct Eye Contact: To apply to the facial-fur, spray firstly onto human hands, and then rub your hands over the facial-fur to avoid direct eye contact.

Ω Compared to Sulphate-based Shampoos.
Struggle with knotty, tangled hair?? Problem solved with Detango leave in conditioner and detangling tonic!!
I have seen such a huge difference in switching to eco.kids and his waves are bouncing right back. Eco.kids 'leave in conditioner' detangling tonic' also makes school mornings so much calmer in trying to quickly get out the door with brushed 'knot-free' hair for school.
Feels good, Smells Good, Does Good!
7 Super-natural Results
Delivers 7 major benefits:
#1: Waterway & Reef Safe,
#2: 100% Natural,
#3: Effortless Application & Rinsing
#4: pH Balance - Suitable for fur babies as young as 8-weeks,
#5: 100% natural for sensitive skin,
#6: Rich is pure plant essences to hydrate & protect, and
#7: Vegan & Certified Organic.
✔ 100% Sustainably Sourced Ingredients
✔ Zero Preservatives
✔ Zero Artificial Fragrances
✔ Zero Non-Biodegradable Ingredients
✔ 100% Love : Feels good, Smells Good, Does Good!
Choose the best for your little ones!
Number Based Results
27%
Increase Skin Hydration
In 10 volunteers revealed
a strong skin moisturising effect

107%
Increased Shine
Volunteers reported increased hair gloss.

100%
Reduction in Wet Combing Force
As compared with synthetic quat compounds
59%
Less Frizzy
Study participants noticed that
their skin was more hydrated after 2 days.
86%
Increase in Scalp Smoothness
Study participants agreed that their scalp
skin felt smother and softer after 28-days.
38%
Reduction in Hair Breakage
Study on heat damaged tresses form breakage
after 100 controlled comb strokes.
ALL ECO.KID PRODUCTS ARE CERTIFIED ORGANIC...
no eco-dusting for eco.kid!