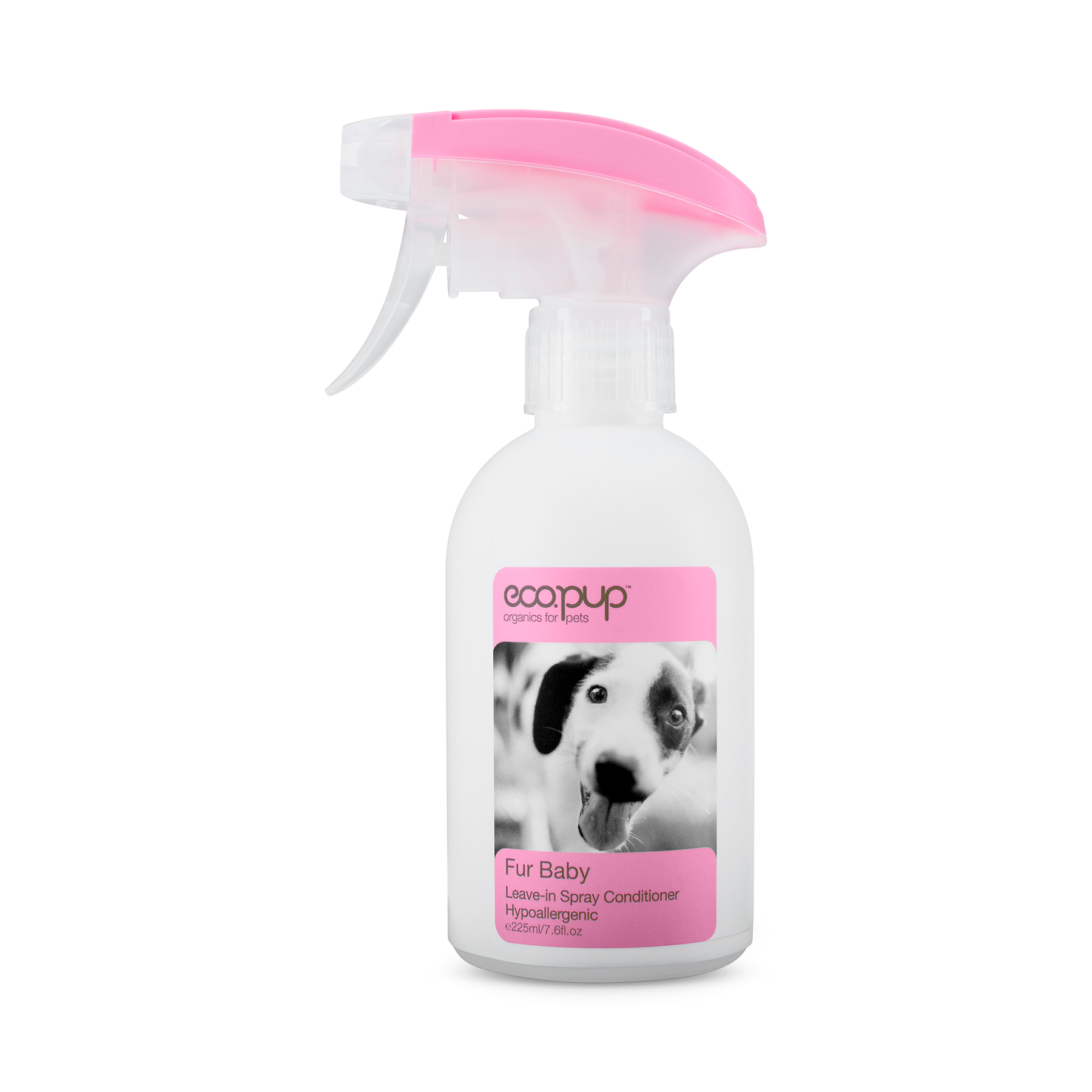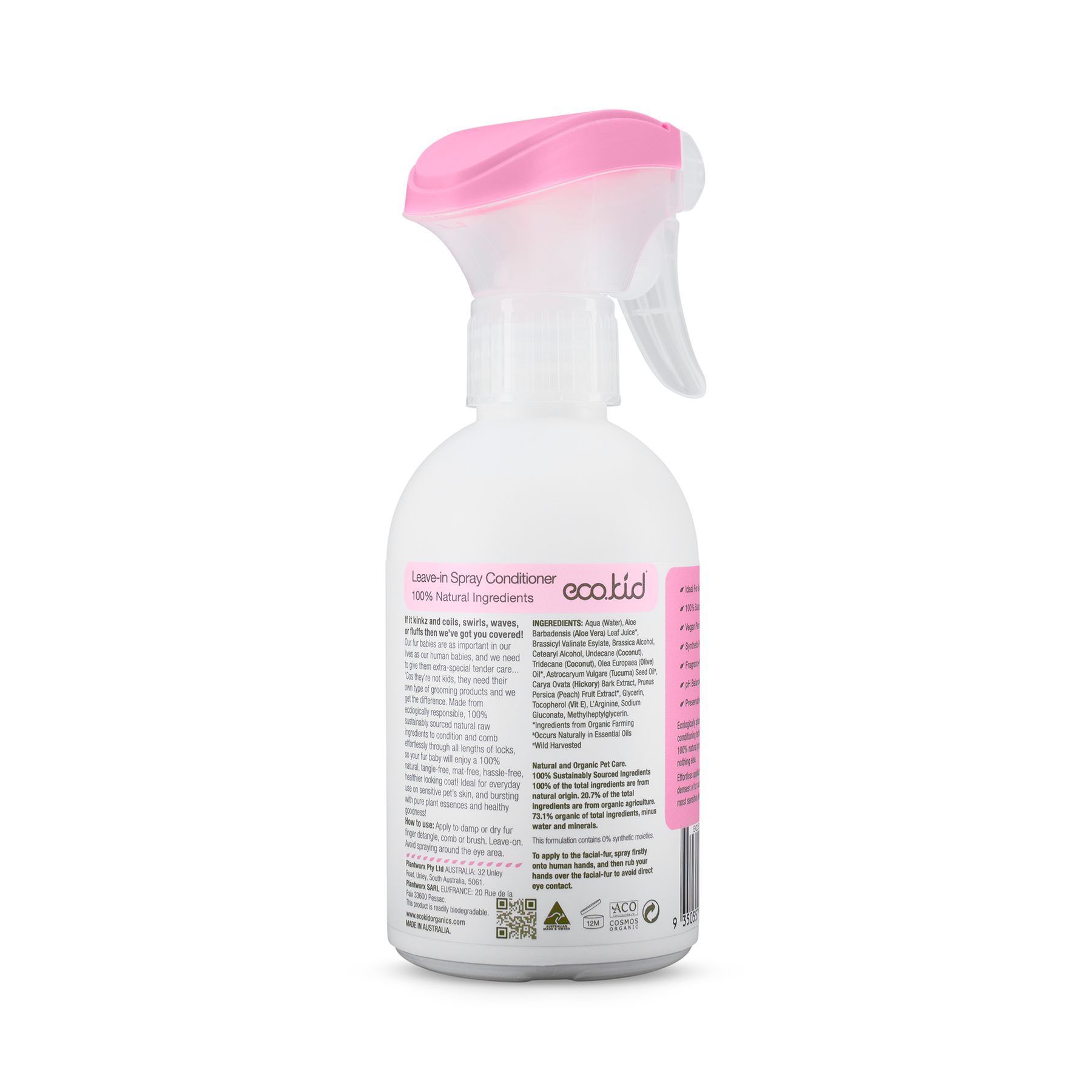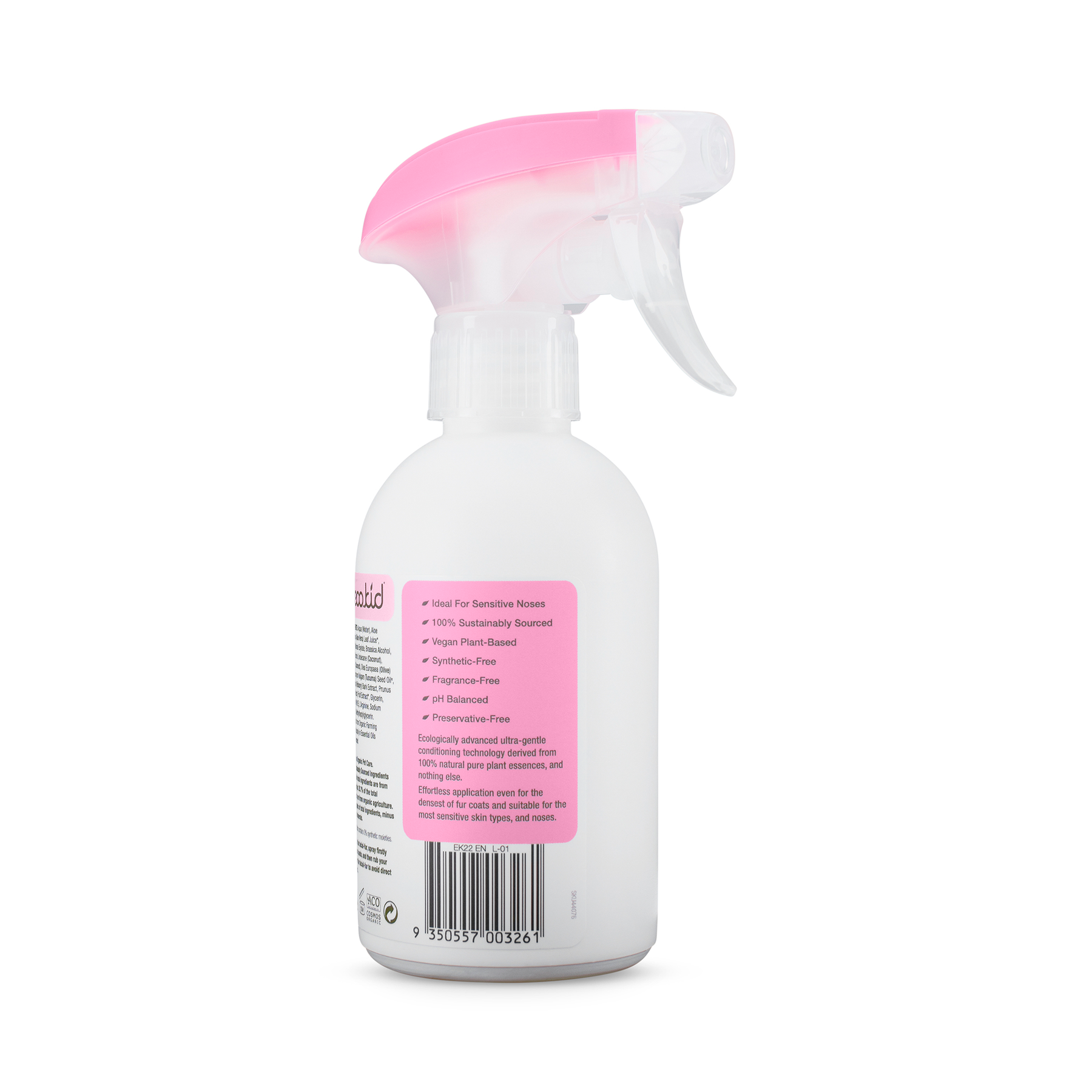 eco.pup Fur Baby Leave-in Spray Conditioner
All ingredients are food-grade lickable.

*Scientifically formulated to balance young puppy's skin pH from aged 8-weeks old.

---
---
Famously fab & a whole lotta fancy... Food-grade & Llickable!

No matter if it kinks, coils, swirls, waves, or fluffs, every fur baby will love a little squirt & zhoosh of this puppy! Whether the finished style-vibe is ruff disheveled chic, tamed femme fatale, a fetchingly foxy 'fro, or plain old outback jack, this ultra-light, non-greasy fur-tamer will help you purrfect the look.
No rinsing require... but; 'cos they're leaving it in, fur babies need their own breed of lickalicious beauty treats. That's why we make it from 100% natural food-grade raw ingredients to condition and comb effortlessly through all lengths of locks.
So your fur baby will rock a 100% vegan, tangle-free, mat-free, hassle-free, healthier-looking coat! Ideal for use on sensitive pet's skin, and bursting with pure plant essences and healthy goodness!

Aqua (Water), Aloe Barbadensis (Aloe Vera) Leaf Juice*, Brassicyl Valinate Esylate, Brassica Alcohol, Cetearyl Alcohol, Undecane (Coconut), Tridecane (Coconut), Olea Europaea (Olive) Oil*, Astrocaryum Vulgare (Tucuma) Seed Oilπ, Carya Ovata (Hickory) Bark Extract, Prunus Persica (Peach) Fruit Extract*, Glycerin, Tocopherol (Vit E), L'Arginine, Sodium Gluconate, Methylheptylglycerin.
*Ingredients from Organic Farming
aOccurs Naturally in Essential Oils
πWild Harvested
Natural and Organic Pet Care.
100% Sustainably Sourced Ingredients
100% of the total ingredients are from natural origin. 20.7% of the total ingredients are from organic agriculture. 73.1% organic of total ingredients, minus water and minerals.

This formulation contains 0% synthetic moieties.

Shake before use. Apply to damp or dry fur, finger detangle, comb or brush. Leave-on. Avoid spraying around the eye area.

To apply to the facial-fur, spray firstly onto human hands, and then rub your hands over the facial-fur to avoid direct eye contact.



Struggle with knotty, tangled hair?? Problem solved with Detango leave in conditioner and detangling tonic!!
I have seen such a huge difference in switching to eco.kids and his waves are bouncing right back. Eco.kids 'leave in conditioner' detangling tonic' also makes school mornings so much calmer in trying to quickly get out the door with brushed 'knot-free' hair for school.
Feels good, Smells Good, Does Good!
7 Super-natural Results
Delivers 7 major benefits:
#1: Waterway & Reef Safe,
#2: 100% Natural,
#3: Effortless Application & Detangling
#4: pH Balance - Suitable for fur babies as young as 8-weeks,
#5: 100% natural for sensitive skin,
#6: Rich is pure plant essences to hydrate & protect, and
#7: Vegan & Certified Organic.
✔ 100% Sustainably Sourced Ingredients
✔ Zero Preservatives
✔ Zero Artificial Fragrances
✔ Zero Non-Biodegradable Ingredients
✔ 100% Love : Feels good, Smells Good, Does Good!
Choose the best for your little ones!
Number Based Results
27%
Increase Skin Hydration
In 10 volunteers revealed
a strong skin moisturising effect

107%
Increased Shine
Volunteers reported increased hair gloss.

100%
Reduction in Wet Combing Force
As compared with synthetic quat compounds
59%
Less Frizzy
Study participants noticed that
their skin was more hydrated after 2 days.
86%
Increase in Scalp Smoothness
Study participants agreed that their scalp
skin felt smother and softer after 28-days.
38%
Reduction in Hair Breakage
Study on heat damaged tresses form breakage
after 100 controlled comb strokes.
ALL ECO.KID PRODUCTS ARE CERTIFIED ORGANIC...
no eco-dusting for eco.kid!